Dr. APJ Abdul Kalam was our former president and one of the most prominent scientists we had in the history of india. His work in the ISRO has inspired many kids to become a scientist like him. He was well known for his personality and kind nature. Let's know about his personality a bit more.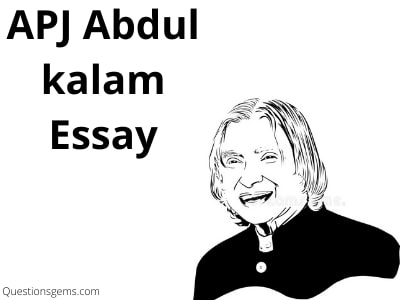 Also check- Gender equality & women empowerment essay / Water pollution essay
Early Life
Avul Pakir Jainulabdeen Abdul Kalam was his full name. He was born on 15th October, 1935 in Tamil Muslim Family. His birthplace was Rameshwaram which is presently in Ramanathapuram District, Tamil Nadu.
He did his schooling from Schwartz Secondary School at Ramanathapuram. Although he was an average student in school but he was always appreciated for his will to study. He graduated from Saint Joseph College, Tiruchirappalli. After graduation, he went to Madras in 1955 to study aerospace engineering in Madras Institute of Technology.
Abdul Kalam as a scientist
He always dreamt of becoming a fighter pilot, although his dream couldn't be completed. But this didn't stop him. He then become a well-known scientist at Indias Space Agency, ISRO.
His contributions to the country's technology have made their mark and they were appreciated worldwide. He even refused to go to the NASA because he wanted to serve his country.
He first worked with the Defence Research and Development Organization (DRDO). Where he worked as a scientist and designed small helicopters for the Indian Army. He was working under Dr. Vikram Sarabhai who was a well-known space scientist. Around 1969, he then shifted to ISRO and achieve many milestones by contributing to Indian technology.
He was the mission administrator of India's former indigenous Satellite Launch Vehicle (SLV-3) which placed the Rohini Satellite close to earth's orbit in July 1980.
Due to his various efforts and contributions, he was also known as the missile man of india. Furthermore, he also played an important role in Pokhran- 2 nuclear testing in 1998, which proved to be a successful mission and made clear that India is capable of doing anything!
Abdul Kalam as India's President
In the year 2002, Dr. APJ Abdul Kalam became India's 11th President. He completed his tenure in 2007 and has been acknowledged as the People's President. This was due to his genuine nature and his efforts to serve his country in every possible way.
He was the 3rd president who received the prestigious Bharat Ratana Award (1997) before becoming the president of india. Along with that, he also received Padma Vibhushan and Padma Bhushan in the year 1990 and 1981 respectively.
After presidency life
After completing his tenure as the President he returned to his old passion for teaching, writing and serving the public. He even wrote many books, Wings of Fire: An Autobiography, My Journey: Transforming Dreams into Action, and many more.
He died at the age of 83 due to cardiac arrest while delivering his speech at the Indian Institute of Management, Shillong.
He surely had a charming personality and he did make every Indian proud by contributing to the nation in every possible way.