The education system of any country decides what kind of human capital they are gonna get. A good education system will lead the country to become even greater and prosperous. While a country with a poor education system will lost their biggest asset which is the people of the country. The education system is what makes a child a good citizen who will contribute his efforts to the development of the country.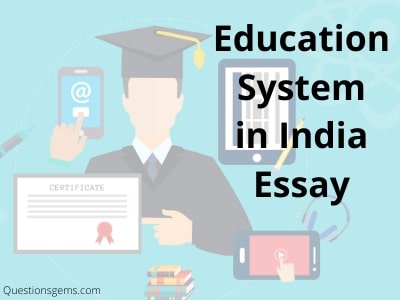 Also check- Digital india essay / Apj abdul kalam essay
Essay On Education System In India
If we talk about the education system in our country then people find different views on it. Some think it's adequate while others believe it needs to be developed. Our views on the education system in India is quite similar to the latter one. We also think that india needs to make some changes in its education system and it should be compatible with today's advance technology and development.
Every child should be provided with adequate information and syllabus which will be useful for their future as well as help India to make their growing population their asset!
India's current education system
India's current education system consists of four levels, that is pre-primary – 5 to 6 years of age. Primary education, from 6 to 14 years, Secondary education level, from 14-18 age and lastly, higher education where UG, PG, M.phil/Ph.D. found.
This system of Indian education is introduced by the Britishers. They have held many commissions to come up with a kind of education system which will be compatible with the Indians. After we got freedom from Britishers, there were many committees held, which resulted in the education system we have today. And the last committee for the education system had submitted its report in 2016.
About India's education system
When it comes to government schools in india, many surveys have shown that the education system is so poor that kinds in the 5th standard couldn't read or solve basic math problems. Furthermore, the drop out of girls in the secondary level education is also seen which is still a big concern for india.
Poor facilities in the school as well as the teacher's lack of interest in the school have seen which is a big concern too. Education policies also show poor results.
The biggest problem with india is, the education is different for the poor and rich. Poor people cannot afford quality education due to the lack of resources as well as fewer higher education institutes.
What can we do to improve the education system?
According to the draft national policy 2019, the early childhood care and education is the need of the hours. New guidelines should be given for the parents for their 3-year-old child.
Teachers should be professional too, and that's why the B.Ed degree should be for 4 years instead of two years.
The opening of new schools for girls should be done too and spread awareness about the girl education.
Conclusion:
Although government are taking steps to come up with a better education system but we still have a long way to go before we see an adequate education system, which will feature education courses like SETM!