There was a time when women were not associated with businesses and thank God that time has passed because we have seen some of the very inspirational women who have started their own business and made it a successful one. And before you judge us for coming up with a list of business ideas that can be done by women, we want you to know that women are capable of doing everything and anything she wishes for.
But this list if for those women who want to start a business of her own but couldn't because she has no solid idea to start a business.
In this list, we have come up with a bunch of great ideas that you can totally go for even on a low scale and from home. So these are some of the best business ideas for women to consider, so let's start our list!
Business Ideas For Women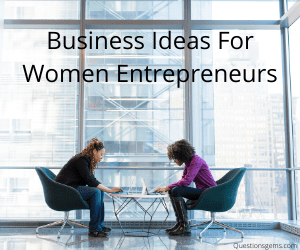 1. Clothing business
When it comes to clothes no one can beat women and it won't be wrong to say that this is something every woman has in her. And if you are interested in clothes designing then you can totally go for it. And even if you are not into design you can open a boutique or become a fashion adviser where people want to know about the style and follow what's trending.

Many women have tried launching their own brand too and they have also been very successful. There are tons of opportunities for women from all sectors to explore new things and make a business out of yourself. Be a fashion designer, a fashion blogger or just own your own fashion store the choice is yours.
2. Food services
Another loved sector by women from all across the country is food services. So if you know food and have a decent knowledge of famous recipes (any cuisine you like) then you can totally step your foot in the food business.

Although setting up your restaurant or cafe can be costly at first so you can also go up for food trucks or make food from home deliver them. For all the women who love cooking this is one of the best business ideas for women.
3. Daycare services
Daycare services are becoming the best business for women all around the globe. Taking care of babies is something all women can do nicely. And now with the growing economy and participation of women in each and every sector has increased the need for daycare services.

All you need is a good space where babies will feel safe and enjoy themselves, you can fill it up a few toys and other playable stuff which will help children to feel good. You can also gove jobs to other women as well and it would definitely be a good business venture.
4. Sewing and tailoring
Sewing business is too a great business for women in India. So if you have learned sewing then this is your chance to make money out of your good skills. The best part is a lot of women in India like to wear tailor-made clothes so this one might be your chance to start your own business. You can do this from your home as well.

And if you are really good at sewing you can totally design your own clothes and sell them to your customers as well. After all who doesn't like to wear the clothes which are specially made for them.
5. Wedding planning
The idea of having a wedding planner has widely grown and almost every other person hires a wedding planner for their wedding who can manage their budget and still provide them their dream wedding. And when it comes to managing g the budget who can compete with women right?

So if you like wedding planning and has a good sense of decorations and food and everything that is associated with weddings then we would totally recommend this for you. And if you want to gain some experience you can go for an internship with famous wedding planners and then start your business out of it!
6. Catering
Our next best business idea for women in India would be catering. We all know how hectic it becomes to find a good caters for our parties and get together, so if you like to cook food and you are good with people's tastes and cooking food for a larger group of people then catering is something should try out.

You will need some equipment and maybe a helper for your catering business and one you have started to get yourself some popularity you can easily earn some good amount of money for yourself. Here too you can do an internship to get some experience and start your business after.
7. Beauty parlor
Being a owner of a beauty parlor is definitely one of the best ideas to start your business right? Because let's face it every woman needs to look good and pamper herself once in a while so its time that you step up and start your beauty parlor. Although you will need to gain some experience and then start your own thing.
8. Blogging
Blogging is one of the best businesses for women from home. So if you have kids who can cant go outside then blogging might be the best choice. It doesn't even need an investment you can simply make a blog about something you have full knowledge of and start earning money.
9. Become a tutor
Being a tutor and teaching kids from home is one of the best things a woman can do an earn money. It doesn't require much time out of your day (probably a couple of hours) and you can earn a decent amount of money at the end of the day.
10. Open a home-based bakery
Opening a home-based bakery is too a very great business idea for women from home. If you like baking and good knowledge of cakes and chocolates and breads then you can totally open up a bakery for yourself. And with social media, you can easily market your cakes and baking skills.
Conclusion:

So these are some of the best business ideas for women in India and some of them can totally done from home as well. So here start your own business in which you find the best suited for yourself and build your own financial support.

We hope you have found something that inspires you and which you can do. Thank you for visiting our page and we hope we have helped you in finding your next business venture.