If you are interested in cooking then one of the best ways to earn money out of it is to start your own food business! But starting one may not be as easy as one would think. First of all, you need to look into a number of things, such as capital investment, efforts, space, necessary equipment and space but most importantly you will need to have a solid idea about what you are gonna do because when it comes to food business you will have a plenty of options!
And that's what we are gonna talk about in this article, if you are too looking for some inspirational food business idea than we have some great ideas for you!
We have found the top 10 food business ideas in India as well as for students who would like to start something of their own. Take a look at the list, maybe you find something perfect for you!
Food Business Ideas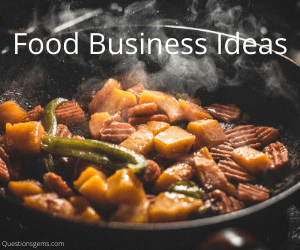 1. Restaurant
It's probably one of the best food business ideas that anyone can think of! Although to start a good restaurant you will need to invest a hefty amount of money and you will also need to plan this thing to each and every aspect.

You will also need a good place which has to be in a good locality where people are interested in the kind of food you are gonna produce. Lastly, you will have to be a good chef or at least have the money to hire a good chef as well as other staff members.
2. Bakery
Another great and kinda obvious food business idea is to start your own bakery. The best thing about it is everyone loves cakes and cookies, so no matter you open your bakery shop, the chances of getting it successful is quite high.

Of course, you will need to have a good knowledge of baking or enough money to hire a good baker. Investment is moderate and you may need a good space for the bakery and set up all the equipment. You can keep it a small scale or medium scale venture.
3. Cafe
Cafes are too very popular at this time and students and the local community should be your primary target. Although here you will need to serve some beverages as well like coffee, tea, and soft drinks. Here you can keep an informal theme for your cafe and make it more interesting and you can also explore your creativity with food.

The average investment would be around 7 to 15 lakh which varies area to area. People have got some success in this venture and guy can too try your luck here. Although here too you need to be a good chef who knows popular recipe among it's targeted audiences. You may need to hire some staff too.
4. Bars and Pubs
If you are planning to open your food business in urban and crowded area then Pubs and Bars might be a good idea too. Here your primary audience will be the young people and the main beverages are drinks (both alcoholic and none alcoholics) along with some small portions of finger foods.

The profit margin is quite high as the per-person cost would be around 1000-15000 INR and like that your investment would be pretty high too. So if you think you can pull this off and you have enough targeted customers in the area then you should totally go for it!
5. Food Truck
Food trucks are not that popular in India yet and that's why this is one of the best food business ideas in India to start with. The best thing is you can take it anywhere and sell your food at various places without a hefty investment in a location.

You will just need a good vehicle and your cooking talent to invite more and more customers. The concept is still new to India but it is widely popular in the west and that's why you can give it a try. After all, the investment is low and profit will be high. So you really need to look into this idea and take it into consideration as your next food venture.
6. Cooking class
If you have a good knowledge of food and you are really good at making new recipes then cooking classes might be a good thing to start as your food business in India. The best thing you don't need to invest a lot in it and yet you can make a good profit.

And if you don't have a space to teach a lot of people under a roof you can always turn to online classes and make money there too. You can experiment with new recipes and teach them to your students as well.
7. Juice bars
With summers coming up everyone will find a glass of fresh juice relaxing and more comforting than any other food item and that's why this one could be your next venture. Starting juice bars can be good business ideas for students as there is not much cooking involved all you need to learn is how to make a glass of juice, which would be not that difficult.

Students can also keep this as a seasonal food thing where they do it in summers and shut for winters! The place has be hygienic and nice, although investment won't be as big as a restaurant or cafe so that's a plus point about it.
8. Ice Cream Parlours
If juices are not your thing then opening an ice cream shop would be profitable too. Here the investment would be somewhat moderate as you won't need a big place and you can easily set it up in a 1000 sq feet area which has a space for up to 4 to 5 tables!

In this summer you can totally go for a ice cream parlor, where either you can make your ice cream flavors or partner with already established ice cream brand.
9. Chocolate making
Who doesn't love chocolate, right? I am sure we all do and if you are good with chocolate making then you can totally open a shop where you can sell handmade chocolate. This one is too a great option for a food business for students where they won't need a big place.
10. Dhabas
Everyone loves Indian food and eating at a Dhaba. The best thing about it is, it is too a low budget venture and you can easily make a good profit out of it. If you are good with Indian (mostly North Indian) recipes then you can try it out too.
Conclusion:

So these are the best food business ideas that we have! Thank you for visiting our page.