In this article we are gonna write an essay on digital India which as a massive step by the government of India to make India more digital-enabled society. Where we are gonna tell you how it started, when it started and what are its aims and how much this campaign has accomplished!
I dream of a Digital India where knowledge is strength and empowers the people – Narendra Modi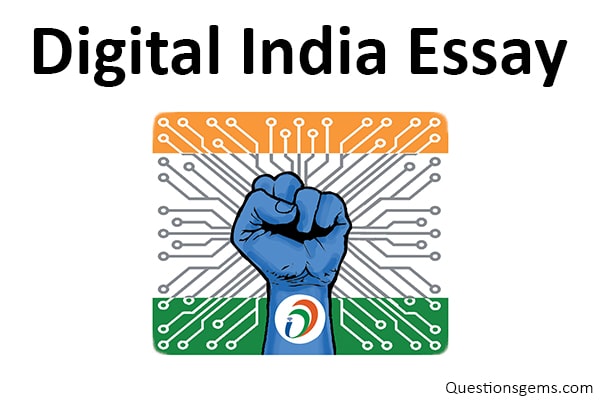 Also check – Ayushman bharat essay / Republic day essay
Digital India Essay
With this vision, the government of India has started this massive campaign where they wish to see more involvement in the internet and more access to the remote areas and villages. This also included the availability of high-speed internet and improving connectivity.
Digital India campaign was launched by prime minister Narendra Modi on 1st July 2015. The campaign was inaugurated in the presence of many elite personalities of country such as Mukesh Ambani who is chairman and managing director of RIL, Wipro chairman Azim Premji, Tata Group Chairman Cyrus Mistry. In this meeting, many ideas were shared and some steps have taken up for the digital growth of the country.
Many information technology-based companies have took place to cover over 600 districts. While the government of India has invested more than 1 lakh crore by launching many schemes. There were a number of different online portals opened for different fields such as e-Health, national scholarship portal, e-education, and so on and these portals are run by Bharat Broadband Network Limited (BBNL).
Aims of Digital India
Digital literacy among the people of India
A well built digital infrastructure that connect to every region of India
E-governance by introducing many digital steps to make it easy to access to the government initiatives
In India, there are nearly 560 million internet users which is a good portion of the Indian population but most of it belongs to the urban area. Indian government wanted to educate the people of India especially senior citizens and people from rural areas about digitization and how it is useful for our daily lives. So more the people are aware of digital literacy the more they would be able to use different government online services.
Government of India has taken many initiatives to spread digital literacy. The government is now trying to go cover almost 60 million houses under a project on which 2,351.38 crores would be spent. Pradhan Mantri Gramin Digital Shaksharta Abhiyan is also initiated under this project to literate people about the usage of the internet. Digital payment portals also created under this project which makes it easier to do business in many regions.
Whereas a well built digital infrastructure will allow people to easily access to the online services and allow people to use the services by using digital identity. There are a number of digital services available under these initiatives. A digital infrastructure would allow easy signing up for different portals and keeping digital documents (which would save the time, money and energy of people). The aim of good digital infrastructure will also provide the high-speed internet in the rural areas to improve the connectivity so that people can take advantage of more and more initiative and schemes run by digital India.
Now the question arises, why we want a well-developed digital infrastructure? why the government is spreading digital literacy? and what will be its benefits in the long run? Well, the answer is because the government is heading towards e-governance so they can bring more transparency and more and more targeted people can be benefited from several government schemes.
Some services that are introduced by digital India initiatives are:-
Digital Attendance: the government was always struggling with keeping track of government employees as taking their attendance with a register and signing process was proven as tedious and not a very effective method. So the government launched the digital attendance in Delhi where they use a biometric system to get the attendance.
Mygov.in: here people can share ideas about how to improve administration plan and common people also take part in this initiative.
UMANG: it stands of Unified Mobile Application For New-Age Governance. It's an application that can be work on any kind of phone. This one basically allows people to access many services such as digital locker, education portals and so on. It also includes rail ticket booking.
e-Hospital- this one also provides hospital services such as booking appointments, online lab results, etc.
Digi Locker: as its name suggests, this portal works as a kicker where people can keep their several government documents digitally. It's a cross-platform application so it can work for many administration units. If you have this you don't need to bring any hard copies.
So these are some notable schemes launched under the Digital India program and many of them proven very successful and innovative. But was it worth it? Did digital India program really made a difference? Was it useful? And what impacts were seen on the lives of people of India through the projects under digital India platform? Well, we are gonna answer them all!
Impacts of digital India
Economic Impact- The economic sector is going to be massively impacted by digital India initiative. You would be surprised to know that reports show that digital India can uplift the GDP by 1 trillion dollars by 2025. With growing digitalization, more and more people are finding new opportunities to spread their business and finding new business opportunities too.
Educational impact- the educational sector is indirectly affected by digital India initiative. As you would know the internet is available in the remote areas so people are gaining knowledge with the help of internet.
Environmental and social impact is also seen. There are more technologies developed to help the environment and agricultural sectors which has helped the farmers. Farmers are getting the right knowledge for their crops by many farmer-based portals.
There are 12000 rural post offices that are kinked digitally and the government is planning to reach $5 trillion economy in the future as well which would be done with the help of digital India program.
Conclusion:
Although there is still a long run to connect more and more remote regions and educate and benefit more people about the digital India program, the initiative has surely made a mark on society and some progress is seen too. Its been 4 years since the launch of Digital India campaign and we are sure it's headed in the right direction. This campaign and affected many sectors whether it's economic, social or educational so we can say its a successful initiative by the government of India.
We hope you liked our essay, thank you for visiting our page!