If you wish to earn money online, youtube is one of the excellent and trustworthy platforms for it. Youtube harbours largest viewership of about 2 billion viewers and hours of video are uploaded every minute. There are many different content creators on youtube, dealing with similar or unrelating fields. Videos can be made on different genres and themes like dancing, singing, poetry, motivational videos, advertising or brand promotion and marketing.
You can also make educational videos and garner a solid fan base. Be a good content creator and when you have enough fan base and subscribers you can look forward to your earning through it.
Making money is not everyone's cup of tea. It depends upon your content, fan following and networking skills. There are billions of viewers on youtube and thousands of channels, to begin with. Everyone can create a channel on youtube but few outshine others and gain a massive following and success. Well, it all depends upon your marketing and networking skills, channel handling, creativity and content quality. You must be creative and innovative that would make your content unique and different and will gain the interest of viewers.
Foundation and Beginning – 
Whatever your intentions are, no matter where you start or how popular you were before. The thing that matters is your approach and management. Your contents should be interesting, engrossing, creative and appealing to the viewers. There are many things that you must consider at first before earning through youtube. You should make a strong foundation and manage your channel properly. Ensure your content engages your viewers and never forget to promote your channel and increase your number of subscribers. Once you have established the channel and muster a solid fan base, you are guaranteed to be paid for your efforts and earn successfully.
Before getting concerned about the payment you must be aware of the youtube guidelines and payment methods and criteria. Firstly, you must fulfil certain eligibility criteria that would make you eligible to earn money from youtube. There are many measures about subscribers, content, video timing, age, etc that you must meet to receive payments from youtube. Therefore, go through the guidelines of youtube, program information, payment standards and the eligibility criteria carefully. Once you have reached all the dynamics and have a potential of earning you can finally earn a decent amount of money.
Eligibility criteria for being able to earn through youtube is as follows –
Minimum age requirement for potentially earning via youtube is about 18 Years. Below this age, you are not eligible to earn money from youtube.
If you wish to earn through the feature of channel memberships you should at least have 30,000 subscribers for your youtube channel. Similarly for selling merchandise you must have at least 10,000 loyal subscribers to your youtube channel.
In case you want to earn from ad revenue make sure your content is strictly under the favour and benefit of the advertiser and would do no harm to the advertisement.
You should belong to a specific region where you can access the features of super chat or stickers to extract some profit from it.
There are many other requirements you should meet to be a potentially earning YouTuber. For that, you should look into details and guidelines of youtube or the sponsors. The first step for using any method to earn payment is to have a successful and decent youtube channel and a loyal fan base worth counting. Here are a few ways in which you can earn money from youtube.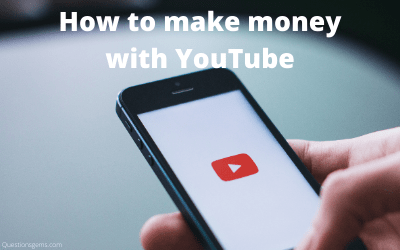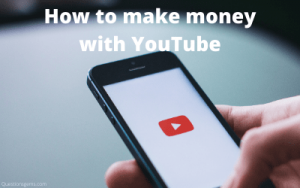 Also check – Best time to post on YouTube / How to be a YouTuber
How to make money with YouTube
1. Youtube Channel Memberships

Through this, you can sell the memberships of your channel to your fans or another person interested. Make sure you have a well-established channel and have a loyal fan base. The minimum age requirement for accessing this feature is 18 years and it also requires for your channel to reach a 30,000 subscribers mark. Therefore, make sure you deal properly and fulfil all the requirements for availing money and avoiding any chaotic payment issues. Your channel should be popular enough that could muster a good fan following and loyal support. You can make your channel popular by working over your content and promoting it on your social media accounts.
2. Ad Revenue

Ad revenue is one of the other perks of the Youtube Partner program that would help you earn good money. All you have to do is give ads pave to the advertisers on your channel. In other words, your channel has to run ads of the advertisers dealing with you. But, there are a few things you should be knowing before choosing this method. You should at least be 18 years of age or more to be eligible for this feature. Moreover, your content should be strictly in terms of your advertiser. Make sure your videos favour the advertisers and give a positive impact on the advertisements. More user-friendly and advertiser-friendly your channel is, more advertisers will b interested in displaying their ads on your channel. Therefore more revenue for you as it will be generated via the profits of advertising.
3. Youtube Premium revenue

Well in this case, if any person subscribed to youtube premium service watches your videos and follows your channel, you will receive money for it. This can be said as a cut off revenue generated from the youtube premium member. But for this, you should make sure you have excellent and quality content that would muster a large fan base and be accessed by a youtube premium member. Try to gain more and more youtube premium member subscribers for your channel. You should be well aware of the content appeal and choice of the premium members and make the content that would be interesting and engaging for youtube premium members. Therefore, you will receive a sum of money from the revenue and profits generated to youtube from its premium member. It can be said that every subscriber, like and view on your channel tells about your payment outcome.
4. Merchandise shelf

This feature accounts for selling merchandise through your youtube channel. It generates a good income potential for the YouTuber but again there are certain criteria that you need to meet for earning successfully. Well, it requires for you to be minimum 18 years of age and calls for t least 10,000 subscribers on your youtube channel. Thus, you should make sure your youtube channel is well promoted and managed. You should be very careful of your content, channel rules, descriptions and be aware of the interests of your fans. You should support and promote your youtube channel continuously by uploading your links on other social media platforms also. Ask your friends and family to support your channel and upload the videos that are attractive and appealing.
5. Superchat Payment

Although this mode of earning is available only in some regions or area. Well, here the YouTubers are paid from their fans in return for recognition or appraisal. Your fans will pay you money to get noticed or praised in your live videos. It requires you to highlight their comments, chats or views in your live streaming. Again it requires you to be 18 years of age and t is a bit more region-specific.
Here are a few points to remember that would help you to ensure a good income and your channel growth –
First of all create a youtube channel. Look for a proper name for your youtube channel, shortlist your minimum video timings and decide fourthly about the content you are going to display on your channel.
Make sure your content is interesting, engaging, thrilling and attractive. Give creativity and innovation its way thus giving a unique touch to your video.
Be active and responsible. Carefully manage your youtube channel, properly describe your videos, make sure videos are high definition and are liked by the viewers.
Promote your channel continuously through your fans, friends and family. Put your other social media platforms to use.
Take feedback for your videos or content and actively produce changes or modifications in your content favouring your subscribers.
Praise your fans, be thankful to them and regularly go through their comments and reviews.
Conclusion –

There are many ways to earn money via youtube but you should make sure you work strictly under the guidelines and norms of Youtube. Make useful, entertaining and interesting content. Also, try to fulfil your eligibility criteria and carefully look into the working and popularity of the channel. Make improvements, changes as you feel so and finally earn a good sum of money.