When it comes to Miami all that comes in our mind is beaches, great weather, and lots of fun. And go some extent that's true. But if you are planning on exploring the whole city there is much more to see and do. It's one of tge beautiful cities that we have and we are already in love with it for its amazing beaches and all its glamorous sites.
But the twist is, there is much more in Miami than just beaches and you would love that side of the city as well. From tons of od indoor and outdoor activities to some of the best places to shop and eat, the places have it all. But if you are going to the city for the first time you would need some assistance in figuring out the places to visit in Miami.
And that's exactly where we come in the picture. In this article, we have listed out some of the best things to do in Miami so that you would have an idea of what to see first and plan the whole trip to Miami and make the best out of the trip. So let's not waste anymore of your time and start our list of things to do and visit in Miami.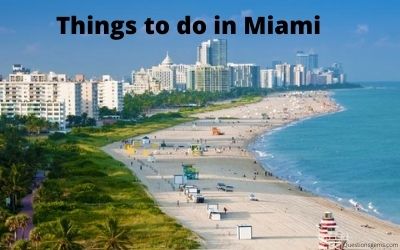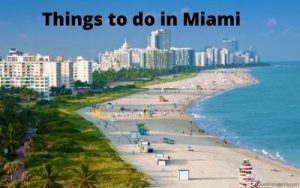 Things to do in Miami
1. Go to the Miami Beach

Isn't it obvious? I mean this would be the reason why you have picked Miami as your next travel destination right? Besides this one is an iconic beach which we must see once in a lifetime and now that you are in Miami, visiting Miami Beach should be first on your list.

Travelers have often said that they just can't get enough of Miami beach. The place is full of vibrant colors and it promises you the best nightlife as well. The place has something for everyone, so it doesn't matter what you like, you would find it on Miami beach. From some of the best dining to the best shops, this place literally has everything you would hope for on your vacation.

Although the fun doesn't come cheaply here and you might need to expand your budget a little bit to have the fun here. Overall, this would be anyway on your list but it's our duty to mention it on our list of best things to do in Miami otherwise the list would be incomplete.
2. Little Havana

If you are done with Miami Beach then you should head to the next iconic destination in Miami that is Little Havana. The place is full of Cuban American culture and you would find a number of never seen before things here. The place is open, airy and you would have the best time here as well.

Little Havana promises you a great deal of entertainment and many places to eat and shop. There are also some places where you can participate in some activities such as taking part in a game of dominoes or chess.

The Cuban food and many Cuban figures are one of the main highlights and it introduces us to the cultural side of Miami as well. There are also a number of festivals, street events, and a number of music performances going on for you to see. The food is cheap and insanely delicious and that is the reason why you should definitely go there.
3. Go to Zoo Miami

If you are a fan of wildlife then Zoo Miami should be the first place to visit in the city. The place promises you to experience the wildlife from a close distance, where you can admire thousands of animals in their natural habitat.

The zoo is home to more than 3000 animals from 500 different species, and the cage-free environment just adds a natural touch to the zoo. This place should be on your list if you have kids as it would keep them entertained as well as give them the crucial information about the different animal species and their natural environment. The zoo is very spacious and there is plenty of friendly animal species as well to have fun with. With water fountains and plenty of shed areas, the place becomes ideal for summers.
4. Cabochon Museum and Performing Art Center

It's located in the neighborhood of Little Havana and as you can guess by its name, the place also highlights the Cuban culture. You will explore the pre-revolution of Cuban art from the 19th century to the 20th century along with some of the recent Cuban arts by modern Cuban artists.

Since its also a performing art center you can expect Cuban music and dance performances as well. The whole performances look more beautiful in the evening slot with some good drinks. So do go there and enjoy some of the live performances and appreciate the Cuban culture.
5. Bayside Marketplace

If you want to admire the bay and have a nice time shopping then you must go to the Bayside Marketplace. It's one of the tourist's favorite locations in Miami as it offers everything from great food to some of the best boutiques to shop.

From Victoria Secret to Gap you would find all the world-class stores and there are more than 150 dining places as well. There are also some local music bands performing live music shows in the afternoon or evening. You can also find the thriller boat tour adventure for some water fun.

Even if you don't want to shop or eat, the place is one of the best sightseeing and people watching the place. So you won't go wrong with it.
6. Vizcaya Museum and Gardens

If you are in a mood to admire some world-class architecture then Vizcaya Museum and Garden should be your next destination in Miami. The place is breathtaking with its stunning architecture and it's known to be Miami's greatest treasure as well.

It covers 28 acres of land and it was built by over a thousand craftsmen who were brought from Europe. There are 34 rooms and a great courtyard which are so beautifully built and crafted. The Renaissance-style villa and its European furniture is also something that you would enjoy.
7. Miami Science Museum

If you think that Miami is all about the fun and the beaches and there is nothing intellectual here then you are wrong. Apart from the art museums and some of the best wildlife habitats, the city also has a museum that is fully dedicated to science and creativity. The place hosts a number of interactive exhibits and hands-on displays on different scientific fields such as Biology, physics, and chemistry.

The museum is constantly expanding and it never fails us to surprise us with its new additions. If you have time then you must pay a visit here and appreciate the science.
8. Wynwood walls

The Wynwood Walls is all about art and it's fully dedicated to those who love to watch the street style art. It's one of the largest open-air street-art installations. It's in downtown and just gives you the feel of an open art museum which you would definitely love to discover.

The Wynwood Walls is actually 8000 Square feet of abandoned warehouse walls where 50 artists from 16 countries have worked on these walls and brought life to these walls and made them one of the popular landmarks of the city. If you are someone who loves to see street arts then this is the right place for you to go.
9. Salt Marshes and Indian Burial Grounds

You can never get enough of nature when you are in Miami. The place is full of places you can find yourself close to nature and one of these places is the Salt Marshes and Mangrove forest. The 440 acres Deering Estate at Cutler Property is one of the places to go and explore the mangrove forests. The place also has a coastal tube island where you can find coastal tropical hardwood. Visitors are free to explore the places and wander around the Indian burials as well. The place is pretty relaxing and calm.
10. Miami Sea Aquarium

Miami Sea Aquarium is another popular destination in the city and it should be on your list if you want to explore the marine life. The aquarium rescues Florida's endangered sea animals and rehabilitates them.

There are a variety of sea animals present here including dolphins, killer sharks, and many more. You can even find alligators here. Although the main activity you can do here is to get involved in "swim with the dolphins" programs which inform us about the natural habitats and the history of dolphins. It's pretty cool and the younger audience would love it.
11. Visit Crandon Park

If you want to explore some activities to do in Miami then go to Crandon Park. The place is located on the northern side of Biscayne. The park covers a wide area which offers you plenty of things to do. For starters, the place has a tennis center, a golf course, and of course a beach with many other exciting things to visit and do.

The palm trees and the white sand around the beach truly enhance the overall quality of the beach and people love to be here to spend some quality time. Although travelers are advised to bring their own food, drinks, umbrellas, and other amenities.
12. Go to Venetian Pool

Want a taste of Venice? Well, in this case, Miami won't disappoint you. The place has been one of the main attractions for tourists as well as the locals of Miami. Venetian Pool has a historical value for it which makes the place even more appealing. It was built in the early 1920s out of a coral rock quarry.

The pool is filled up with eight hundred gallons of underground spring water. The place is well maintained. There are many reasons why people find this one an ideal location to have fun and spend quality time with their family. From the architecture of the pool to the facilities the pool delivers, everything is top-notch and you would have a great time here. Although it's quite expensive and you may wanna book the tickets way in advance cause they stop selling tickets once they have reached the peak.
13. Dolphin Mall

Another place where you can empty your pockets, the Dolphin Mall is known as one of the best places for shoppers. And since it's located near the Miami international airport, people have plenty of opportunities to shop before they leave the city.

The mall has everything from socks to branded clothes and some decent restaurants and bars where you can refresh yourself. There is also a movie theater where you can entertain yourself if your flight is late! It might not be the "must-see" place but you might visit it.
14. Olympia Theater

If you are in a mood to watch some theater then there is a perfect place for that, the Olympia Theater! It's one of the iconic theater the city has and this one always keeps you entertained throughout the year. You can always catch a performance or any kinda event whenever you go there and that's why people love to stop by here.
15. Tropical Botanic Garden

Tropical Botanic Garden is a decent place to wander around. The place is full of rare tropical trees, plants, flowers, etc. If you like to see some rare or native plant species than you might wanna go here.
Conclusion –

And these are the best things to do in Miami. Although most of them would have been already recommending to you by your tour guides or your local friends, so do not miss them just because they are cliché because there is a reason why these places and activities are popular in Miami.

Overall we have done our job by bringing you a list of things that you can do in Miami now it's all up to you to go and explore these beautiful places and have the best time in Miami. We hope our article was helpful to you.