When it comes to festivals no other country can compete in India. There are so many festivals from all religion which is celebrated with lots of fun and enthusiasm! But we are talking about the most special festival of India! Which is Diwali! Diwali is like the biggest festival in India which is celebrated at very large scale. There are lightings and fireworks on the day of Diwali! And that's why it is also called the festival of lights.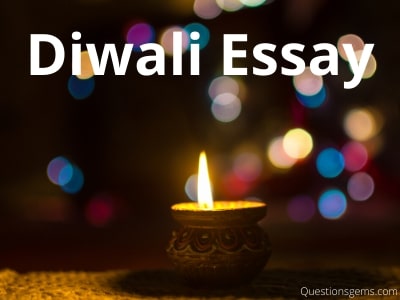 Also check- Holi essay / My family essay
Essay On Diwali
Diwali is the celebration of the homecoming of Lord Rama after he defeated Ravana and returned to his homeland after 14 years of exile! When Lord Rama returned everyone lighted small lamps on their houses and since then we celebrate Diwali. This day signifies the victory of light over darkness and good over evil.
Although Diwali isn't only the celebration about Lord Rama's homecoming. This day is also celebrated for wealth and prosperity by worshipping goddess Lakshmi (goddess of wealth).
The most interesting thing about Diwali is, it not just a one-day celebration as it is a whole five-day celebration. And each day holds a significance of its own. Students and employees are given a week holiday. And it's very much needed because there are so many rituals and customs.
Before Diwali people fully clean their houses and decorate it with lights and Rangoli (which is made from colors and flowers). They also buy new clothes and lots of sweets and firecrackers.
As we said it is a give day celebration, on the first of the celebration which is called as Dhanteras, people buy gold jewelry, new clothes, automobiles and other things which are important for the celebrations. It is believed that it is a good day for buying things which brings prosperity and wealth in the house.
2nd day is called as Choti Diwali or Roop Chaturdashi. On this day women dress up traditionally and perform rituals. It is also known as the pre-Diwali as people throw parties for their friends and family and play cards and enjoy themselves.
3rd day is what we call the main festival, Diwali. People also prepare lots of homemade sweet dishes to celebrate the day. And in the evening Lakshmi pujan is performed with proper rituals. After the puja is done, people burst crackers and celebrate the joyous day of Diwali. The whole country is being lightened up with lots of lights and you will also find lots of fireworks. All this looks so beautiful and extraordinary.
On the next morning, people perform rituals for Govardhan Puja where people thank the Lord for providing good food and prosperity to their family. The last day is called Bhai Dhooj, this day is dedicated to the bond of brother and sisters.
Although the celebration and rituals of Diwali varies from community to community, but it's still celebrated by the whole country with unity! Which defines the true beauty of the festival. No wonder it is the biggest festival of India and why people love it so much!