Having a clean environment is good for our health, both physically and mentally. Here we have put our views about the cleanliness in our country!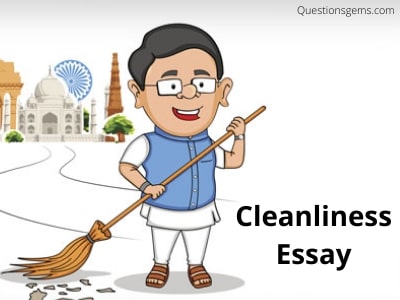 Also check- Swachh bharat abhiyan essay / Mahatma gandhi essay
Introduction
It's not that anyone like living around the dirt or not so clean environment, but even then, people unconsciously give rise to an environment which isn't clean enough to be around. The unsanitized surrounding will give rise to many problems and will have a severe effect on the health of people who are living in the area.
The biggest problem with the country of 1.25 billion population is that not everyone is careful about the cleanliness and not everyone is aware of its effects. And it's surely not something that we should force people, there should be a society which is aware of the consequences of not being in a clean surrounding the harmful effects of unsanitary environment.
If you ask us what is cleanliness then our answer would be, the act of keeping your surroundings clean and prevent the spreading of dirt in any form. This includes keeping clean your home, school, office and most importantly the public places. Because the public places are most affected by unsanitary conditions.
But one might think how to spread cleanliness and what are we doing wrong which spread the dirt and unsanitary situations this far that all we see around ourselves in dirt and garbage.
Causes of Uncleanliness
If anything is responsible for uncleanness then it would be the humans themselves. The lack of awareness about the sanitization and poor education of people has lead to the problem of instantiation in the first place.
Furthermore, the sanitization department is less developed and not every area has a team of cleaners, which leads to the pile of garbage here and there. Lastly, the stray animals also considered as one of the biggest reason for I cleanliness in our society.
Impact of Uncleanliness
The biggest impact of living a society where there is dirt spread everywhere, will be on our health. The more dirt there will be the more you will prone to have viral, bacterial or fungal disease.
It also spread pollution and hurt our environment in many ways. Stray animals such as cows or dogs eat the garbage and face many difficulties too.
How to improve the cleanliness in our country
First of all, a law for the people who spread the dirt and throw garbage in public places is the need of the hour. Although it's something they should be aware of themselves but since we are unable to do that, a law suggesting a fine or punishment may work.
The lesson of cleanliness should be introduced at the early age of children so that they can know it's harmful effects.
Disturbing should be placed everywhere and sanitization workers should be hired for every part of the country.
The government should also deal with the growing number of stray animals as well. And lastly, a complete ban on single-use plastic should be initiated.