Sure you have heard a Cajun phrase at some point in your life but do you know which one is the most popular? Well if you doing then we have a gift for you, in this article we have listed all the famous cajun sayings that we think you would enjoy phrasing them when you are with your friends!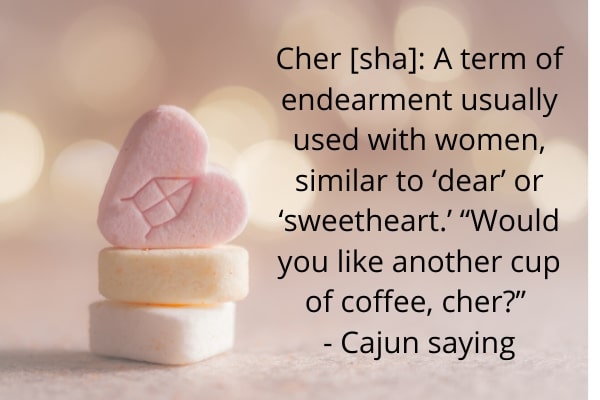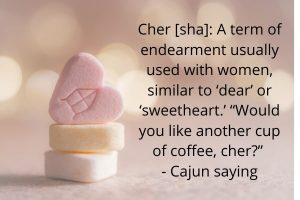 Also check –
Minion Sayings
/
Volleyball Sayings
Cajun sayings for food
"LAISSEZ LES BON TEMPS ROULER"
"FAIS-DO-DO"
"HOLY TRINITY"
"CHER"
"PIROGUES"
"GRIS GRIS"
"LAGNIAPPE"
"HOW'S YA MAMA AN' THEM?"
Allons [Ah-loh(n)]: Let's go.
Ça c'est bon (Sa say boh(n)): That's good.
Ça va (Sa va): How are you? And it's also the response "I'm well."
C'est tout (Say too): That's all.
Cher [sha]: A term of endearment usually used with women, similar to 'dear' or 'sweetheart.' "Would you like another cup of coffee, cher?"
Chevrette (she-vret): Shrimp
Cocodril (ko-ko-dree): Alligator
Courtbouillon (coo-boo-yon): A rich, spicy tomato-based soup or stew made with fish fillets, onions, and sometimes mixed vegetables.
Envie [ah(n)-vee] A longing or hunger to do or eat something. Other Southerners might use the word 'hankering' where a Cajun would use 'envie.' "I've got an envie for some boudin."
Fais do-do [fay doe-doe]: A Cajun dance party. (Also, an expression adults use when they want children to go to sleep.) "Will we see you at the fais do do?"
Filé [fee-lay]: Ground sassafras leaves used to season, among other things, gumbo.
Frottior [froh-twahr]: A washboard or rubboard used as a musical instrument in zydeco and Cajun music.
Gris-gris [gree-gree] To put a curse on someone. Frequently used in jest, not in reference to actual black magic. "Grandma got so mad when I ate her pie, she put a gris gris on me."
Honte [hont]: Embarrassed or ashamed. "I drank too much and fell into the bayou. Boy, was I honte!"
Joie de vivre [Jhwa da veev]: Joy of living.
Lagniappe [Lahn-yop]: Something extra.
Laissez les bons temps rouler [Lay say lay boh(n) toh(n) roo lay]: Let the good times roll. With more than 400 festivals each year, this saying embraces the fun-loving nature of Louisiana.
Minou [mee-noo]: Cat. "Get that minou off the table! It's time for dinner."
Pauvre ti bête [Pove tee bet]: Poor little thing.
Pirogue [pee-row]: A Cajun canoe.
Ti (masculine) or 'tite (feminine) [tee or teet]: The Cajun equivalent of 'junior,' but placed before the name rather than after. "I had dinner with John and his son Ti-Jean."
Veiller [vay-yay]: To spend the evening talking with friends. Cajun equivalent of "to shoot the breeze." "She was veiller with all her friends on the porch"
Pain Perdu (pan-pear-doo): Means "lost bread"; a breakfast treat made by soaking stale bread in an egg batter, then frying and topping with cane syrup or powdered sugar.
Pauve ti bete (Pove tee bet):  Poor little thing.
Pirogue (pee-row):  A Cajun canoe.
Po-Boy: A sandwich extravaganza that began as a five-cent lunch for poor boys. Always made with French bread, po-boys can be stuffed with fried oysters, shrimp, fish, crawfish, meatballs, smoked sausage and more.
Praline (praw-leen):  The sweetest of sweets, this is a candy patty made of sugar, cream and pecans.
Roux (rue):  Base of gumbos or stews, made of flour and oil mixture.
Sauce Piquante (saws-pee-kawnt):  Means "spicy sauce"; is a spicy stew.
Tante (Taunt):  Aunt.
Tasso (tah-soh):  Strips of spiced pork or beef which are smoked like jerky and used to flavor many dishes; a sort of Cajun pepperoni.
Zydeco (zi-de-co):  A relatively new kind of Creole dance music that is a combination of traditional Cajun dance music, R&B, and African blues.
ANDOUILLE AND BOUDIN (AHN-DOO-EE AND BOO DAN)
Two types of Cajun sausage. Andouille is made with pork, boudin with pork and rice. Sociologists recognize two major categories of Cajuns; "River" (for andouille); and the "Bayou" (for boudin) ***
BEIGNET (BIN-YAY)
A fritter or strangely shaped doughnut without a hole, sprinkled with powdered sugar. A New Orleans favorite***
BOUQUET GARNI (BOO-KAY GAR-NEE)
An herb bouquet. A small cheesecloth bag containing 1 large bay leaf, teaspoon thyme, teaspoon dried basil, about 8 sprigs fresh parsley, teaspoon dried tarragon, 3 chopped green celery tops, 6 whole peppercorns and a slashed clove of garlic used in Cajun cooking**
BOUREE' (BOO-RAY)
Popular Cajun card game, sometimes called "Cajun Bridge" ***
C'EST LA VIE (SAY LA VEE)
"That's life" ***
CAFÉ NOIR (CAF AY NWAH) & CAFÉ-AU-LAIT (CAF-AY-O-LAY)
Black coffee or coffee and milk or cream ***
CAJUN COOKING ROBUST,
inventive cooking evolved by the Acadian settlers rooted in resourcefulness, use of available ingredients and "made do" in artful ways **
CAJUNS BAYOU (BY-YOU OR BY-YO)
A sluggish stream bigger than a creek and smaller than a river ***
CHER (SHA)
Term of endearment or "my sweet" ***
COCHON DE LAIT (COO-SHON DUH LAY)
An event where a suckling pig is roasted over a blistering hickory fire until the inside is tender and juicy and the outside brittle as well-cooked bacon *
Also check – Christian Sayings / Butterfly Sayings
Cajun sayings
COMME CI, COMME CA (COME-SE, COME SAH)
So-so ***
CRAWFISH-CRAYFISH (CRAW-FISH)
A small fresh water crustacean related to the lobster**
CREOLE
Several definitions exist: in Louisiana, a Creole is a white person descended from French and Spanish settlers or a person of mixed European and African blood. It's also a style of cooking and architecture Etouffée (ay too fay) Method of cooking something (usually shrimp or crawfish) smothered in chopped vegetables over low flame, tightly covered until tender **
FAIS-DO-DO (FAY-DOH-DOH)
A type of street dance derived from European religious festivals. Originally called Festival of God.*
GRILLADES (GREE YAHDS)
Beef or veal round steak, browned, then simmered until tender in browned tomato sauce served over rice or grits**
GUMBO (GUM BO)
Thick, savory soup with chicken, seafood, sausage or wild game ***
HUSH PUPPIES
A cornbread-type of mixture, formed into balls and fried until crispy on the outside**
JAMBALAYA (JUM BUH LIE UH)
Highly-seasoned mixture of any of several combinations of seafood, meat, poultry, sausage and vegetables, simmered with raw rice until liquid is absorbed**
JOIE DE VIVRE (ZHWAH DUH VIV-RE)
"The joy of living" the attitude of our citizens that permeates our lifestyle***
LAGNIAPPE (LAN YAP)
An old Creole word for "something extra." Soup meat is the lagniappe from vegetable soup preparation.**
LAISSEZ LES BONS TEMPS ROULER (LAY-SAY LAY BAWN TAWN ROO-LAY)
"Let the good times roll" the motto of many Louisianans***
PIROGUE (PEE-ROGUE)
Cajun canoe, originally made from a dug-out cypress log***
ROUX (ROO)
Basic ingredient of many Louisiana recipes. Essentially seasoned flour browned in a skillet***
ZYDECO (ZY-DUC-COH)
Lively variant of Cajun music derived from the word haricot, French for string bean
Cajun sayings about love
Boo –  your honey,  your sweetie
Cher, Sha – sweetheart, baby
T – put this before anyone's name, and it means 'little'. Like T John
Sussie – add a little something extra or sweet
Ro-Day – run the roads, wander around
Lagniappe – something extra
Parrain – Godfather
Nanny – Godmother
Ahnvee – 'a hankering for', hunger
Meenoo – cat or kitty
Pass a Good Time – gonna have a good time
Couillion – a nice way to put it would be a 'rascal'
Ils sont partis – They're off!
Gris Gris – put a spell on them
Come See – come here
Frisson – get a little shiver
Ça c'est bon – that's good!
Allons – Let's go
Conclusion:
These are the best Cajun sayings. I hope you guys like our collection of Cajun sayings, Cajun sayings about love, Cajun sayings for food. If you have any question or suggestion then just comment below or contact us.